Chris Murphy
Team Leader, RSPS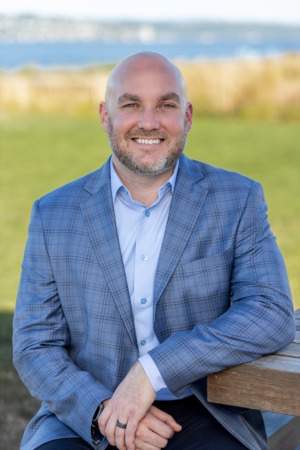 Chris Murphy started his real estate career in 2006 when he purchased his first rental home. After graduating from the University of Puget Sound that same year with a degree in Business Administration and Leadership, Chris managed the sales and marketing for the Washington Coast real estate development, Seabrook. During this time, Chris acquired and overhauled what would soon become Washington State's #1 waterfront real estate web site, WashingtonWaterfronts.com.
In addition to WashingtonWaterfronts.com, Chris owns and operates PugetSoundRealEstate.com. With a focus on extremely high levels of client service, Chris has helped many buyers and sellers experience smooth and enjoyable real estate transactions.
Reviews of Chris
Chris Murphy is extremely professional, very patient and was available to us 24/7 for all of our needs. Chris took time to answer all of our questions from the most serious to the silliest. We don't think we could have picked a better broker to represent us in our real estate transaction. We have recommended Chris to our family and friends and will continue to do so. - Kirk R.
Our agents, Chris Murphy and Wyatt Martin were outstanding to work with. I can't say enough about how knowledgeable and professional they are. I would highly recommend them both. - Nick S.
There was constant effort to market my property. There was constant feedback and contact through out. There was great rapport with my agent. Very happy throughout the entire process and success that Chris accomplished for us. - Don P.
Chris Murphy is one of the most heartfelt, honest, knowledgeable and hardworking professionals that I have had the immense pleasure of working with. The time that I spent working on Chris' team out at the Port Ludlow new home sales team was one of the most valuable learning experiences of my career. He is a natural leader. Chris' extensive knowledge of the Real Estate industry, attention to detail and level of client care are a cut above anyone in his profession. I look forward to every opportunity that I have to work with Chris and I highly recommend him to anyone who is looking for someone to help them with one of the most important financial decisions of their lives. You're in good hands. - Jody P.
Chris Murphy is an exceptional agent. His knowledge and expertise of the market were invaluable to our family in selling a family members home. We live quite a distance from house that was listed and Chris handled all the little things that arose during the selling process that would have required countless hours of travel time for me. I would highly recommend him to anyone buying or selling property. - Stuart S.
Sometimes you get an intuitive feeling when you meet someone who works hard and knows what they are talking about. Chris Murphy is a knowledgeable, relentless and caring advocate for his clients. As a professional home inspector and licensed structural pest inspector, it's my job to find obvious and latent defects in a home. Chris takes the information in inspection reports and successfully advocates the best possible outcomes for his clients. Chris tends to work on complicated transactions involving waterfront properties. From an inspection standpoint, waterfront properties present more challenges; they require more maintenance than an inland home. The key to Chris and his success is that he works harder and smarter than the rest of his competition. I highly endorse Chris as a buyers agent, sellers agent and real estate consultant. - James L.
Chris Murphy guided us through what our lender characterized was one of the most complicated real estate transactions he has encountered in over 15 years. Chris is quite knowledgeable, meticulous, highly responsive and willing to investigate to get answers to questions. I found him a delight to work with and will work with him again in future purchases of Washington/waterfront property. - Scott M.
Grateful to the assistance of Chris Murphy during our home buying experience. Chris was responsive to any questions we had and he kept us updated and informed throughout the process. We highly recommend Chris to any potential home buyers or sellers. - Jeanette A.
Having worked with Chris, the Founder of Washington Waterfronts, on two successful transactions - it is hard to characterize his strengths in just three words. I'll use four: --Urgency --Expertise --Detail --Honesty Highly recommend talking with Chris if you are considering a Real Estate purchase of any kind. - Byron C.